Sea turtle watching in Con Dao, Vietnam: huddled around a nest, we see a mother lay dozens of eggs – until something goes wrong
Bay Canh, in the Con Dao archipelago, is considered the most precious sea turtle habitat in Vietnam. Overnight tours allow visitors to watch turtles laying eggs
Seeing the mother turtle sculpt sand over her newly laid clutch with her back flippers is like watching big leather mitts shape clay on a potter's wheel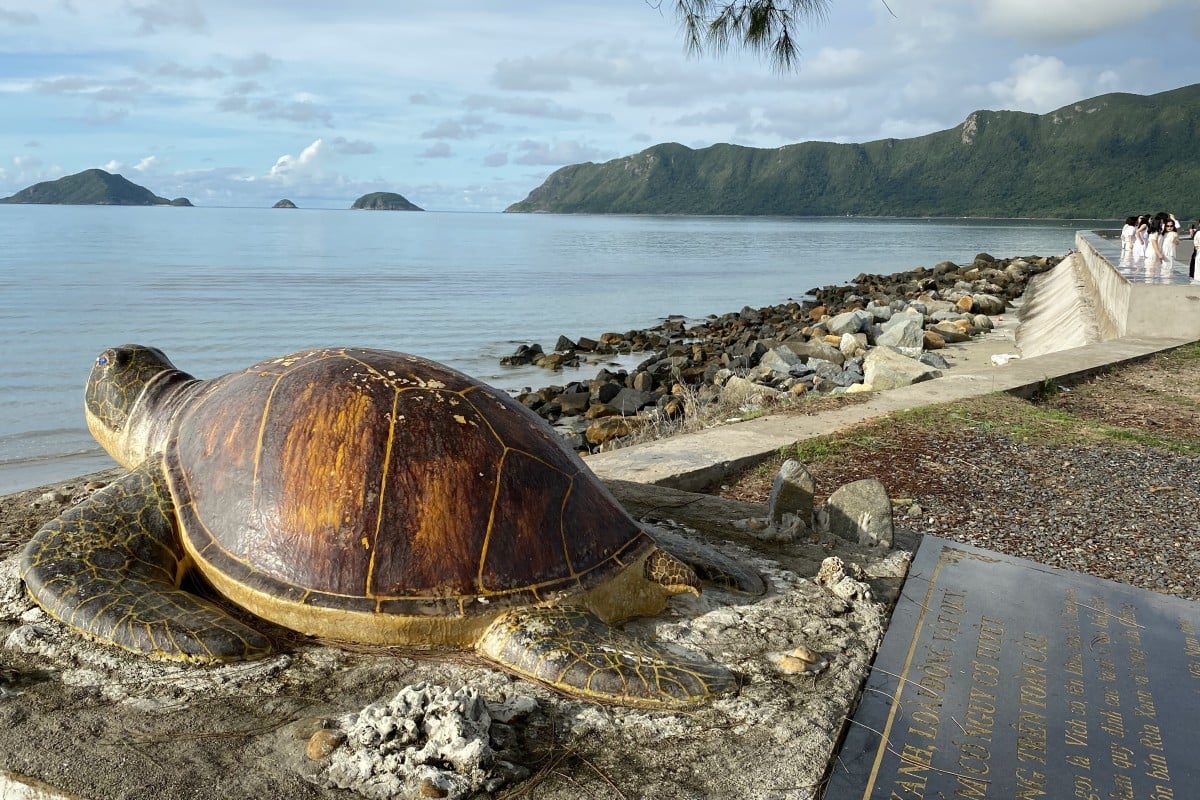 A sea turtle monument on the promenade of Con Son, Con Dao, Vietnam. The archipelago is considered the most abundant sea turtle habitat in Vietnam. Photo: Patrick Scott
In the dim light of a half-moon, we peer down onto a forest-fringed bay from an overlook at the Con Dao National Park ranger station on Bay Canh islet. Surf is pounding the shore and the setting is framed by clouds in a starry sky and glowing squid trawlers on the horizon.Bay Canh is ground zero for sea turtle nesting and overnight tours in the 16-island Con Dao archipelago, off Vietnam'ssouthern tip, and despite the current impossibility of international travel, we number 40: three tour groups and eight volunteers."You see that black spot," says guide Huong Pham, pointing to what looks like a large rock at the water's edge. "That is one sea turtle coming up."
It is an unlikely homecoming that has been decades in the making.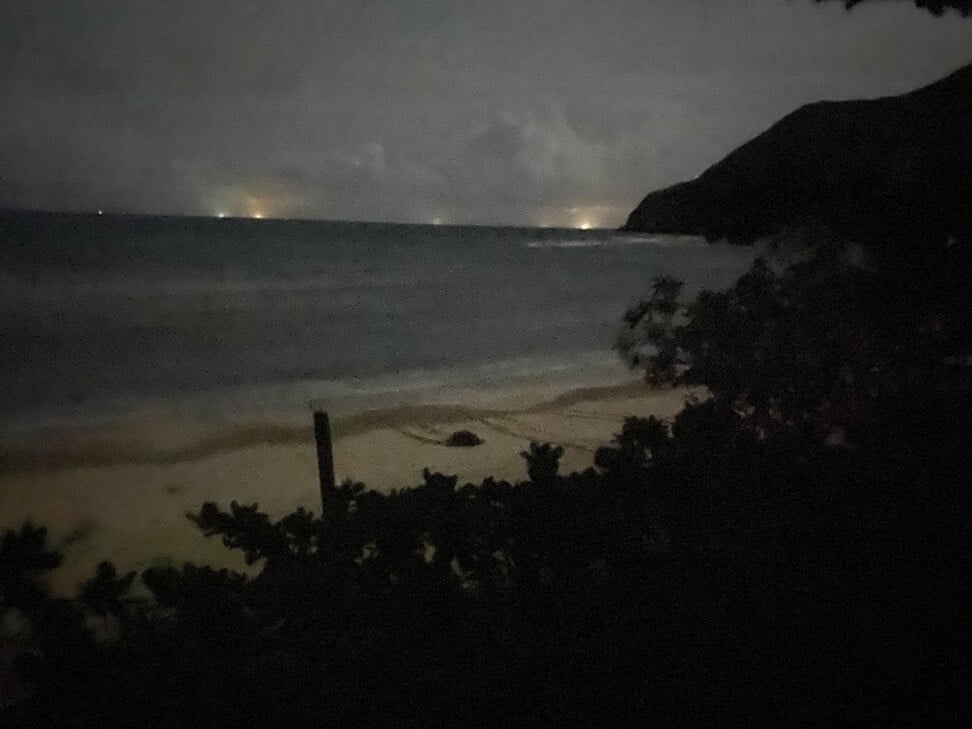 A sea turtle emerges from the surf to dig a nest on the beach. Photo: Patrick Scott
Con Dao is known mainly for the penal colony that once stood on the main island, Con Son, and the graveyard in which now-celebrated communist revolutionaries who fought for independence in 19th and 20th centuries are buried.
The islands are also considered, at least in conservation circles, as the most abundant sea turtle habitat in Vietnam – populated by green turtles and some Hawksbill turtles – and one of the most significant sites in Southeast Asia.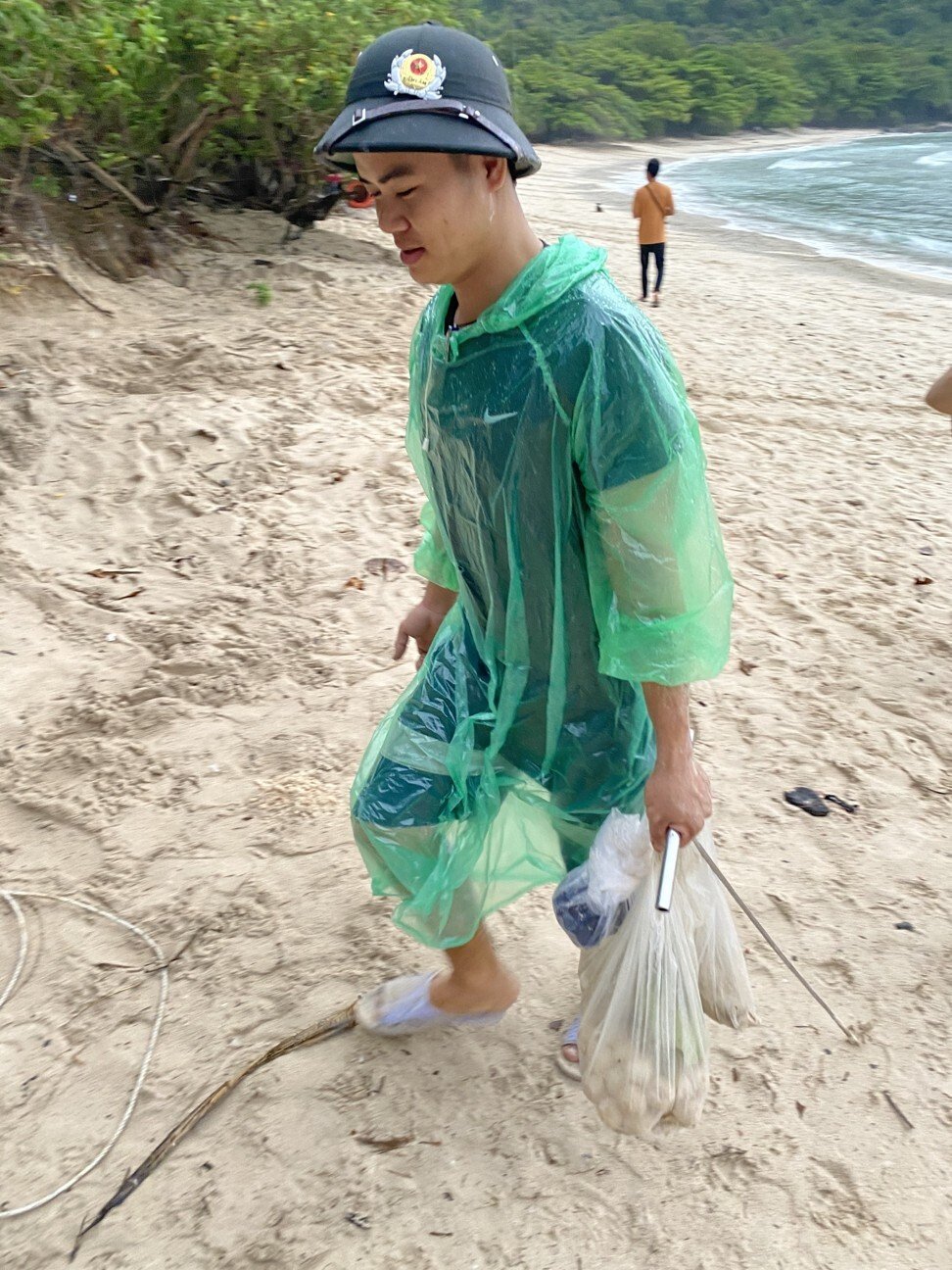 A park ranger collects sea turtle eggs from nests on Bay Cahn islet. Photo: Patrick Scott
Since the national park established the first sea turtle conservation stations three decades ago, rangers have recorded some 9,300 mothers arriving on beaches, more than 27,000 nests dug and more than 1.9 million hatchlings released to the sea. Only an estimated one in 1,000 baby sea turtles manages to avoid predators, fishing nets, pollution and poachers to reach adulthood.
Compared with seaside destinations elsewhere in Vietnam such as Halong Bay and Nha Trang, Con Dao remains undeveloped. But since high-speed ferries began operating from the mainland in 2018, hotel and homestay numbers have exploded; from 45 to 137 and counting.
Now, as well as a planned US$99 million expansion of Con Dao's tiny airport, the national park has designated 19 tracts for resort development on several islands, including two on uninhabited Bay Cahn.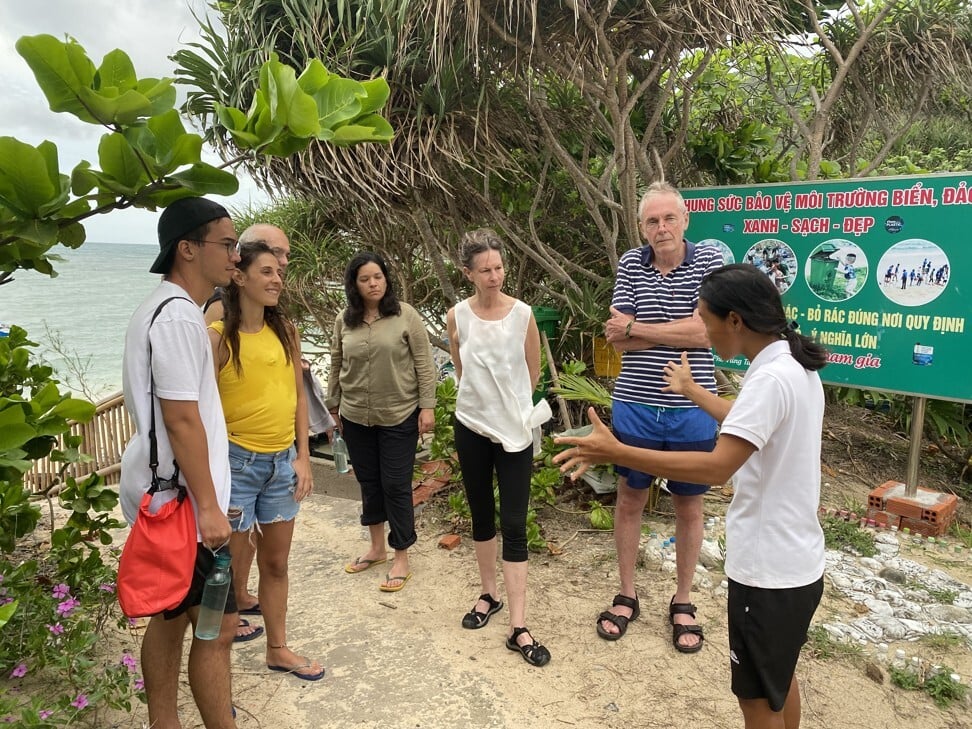 Huong Pham (right) explains sea turtle nesting to the tour group. Photo: Patrick Scott
Con Son has all the development for now, with a population of about 10,000 and some 400,000 visitors last year, most of them on pilgrimages to the memorial cemetery. But once coronavirus-related travel restrictions have been lifted, many more are expected, with holidaymakers seeking to enjoy the turquoise water, lush mountains and French colonial architecture.
Turtle tours constitute just a small segment of the tourism trade, partly because the national park limits overnight guests at the five ranger stations on the islets. The park and a number of tour companies – some catering to foreigners, most to Vietnamese tourists – run the trips.
Tour guides and some of the rangers were expecting a bounty of turtles this year because the start of the mating season coincided with Vietnam's nationwide coronavirus lockdown, in April. (Vietnam has tallied less than 400 Covid-19 cases and no deaths through an uncompromising series of measures such as testing and isolating everyone coming into contact with the pathogen.)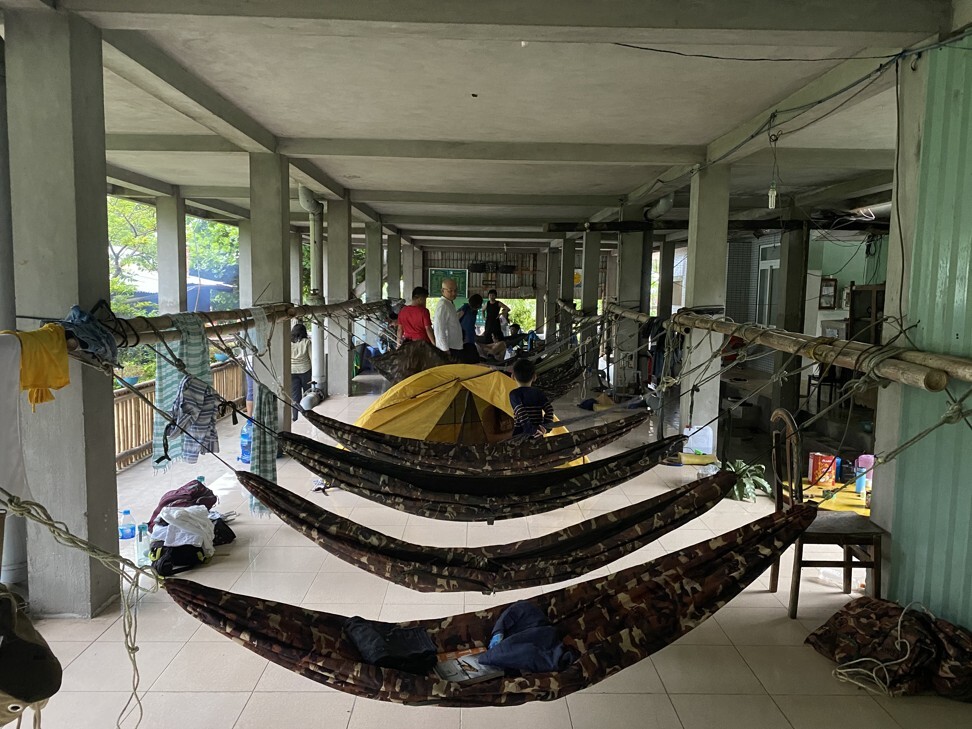 One of the areas for overnight guests at the Bay Cahn ranger station. Photo: Patrick Scott
Through April, rangers counted double the number of nests compared with last year, mirroring reports of marine turtles thriving on unpeopled shores in places like Florida in the US and Thailand.
However, Mark Hamann, a marine turtle expert at James Cook University, in Australia, says variations in sea turtle activity probably have more to do with natural fluctuations in feeding and breeding patterns. "It's almost impossible to determine if it's tourism related."
Nevertheless, the Con Dao rangers are hoping that this April-to-October sea turtle season will exceed the record numbers of nests and hatchling releases recorded in 2016.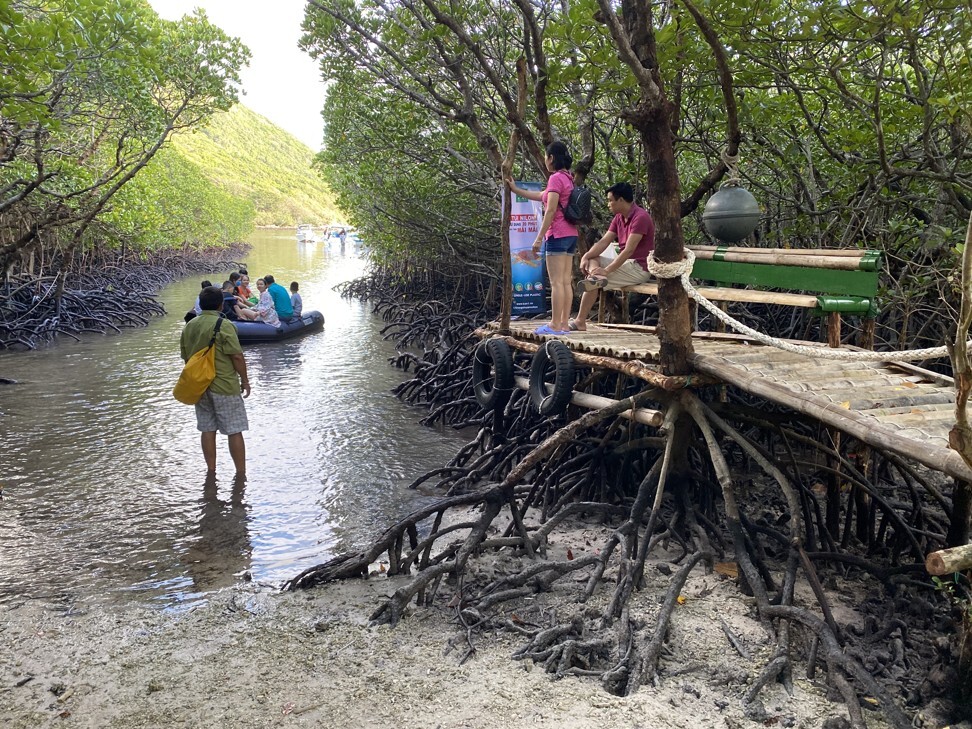 Landing amid mangroves on Bay Canh islet. Photo: Patrick Scott
Our overnight tour starts at around 3pm as we board a speedboat off the beach at the Con Son pier. After 20 minutes of bouncing across the sea, we're snorkelling off Bay Canh. Beneath the water grow vibrant coral – acres of stubby branches and round tables in hues of brown, chartreuse and lilac, and large dimpled orbs of neon blue and white.
We motor around to a rocky put-in and wade up to a jungle-draped stone path that winds through a mangrove forest, the intricate root networks arching like ballerina limbs into the water. The ranger station consists of ramshackle quarters and cement, open-air structures strung with a few dozen hammocks. Two seatless toilets and meagre solar power and cell service round out the amenities.
Even though there are 40 of us, a ranger says that overnight guests are capped at 24, to protect the turtle habitat.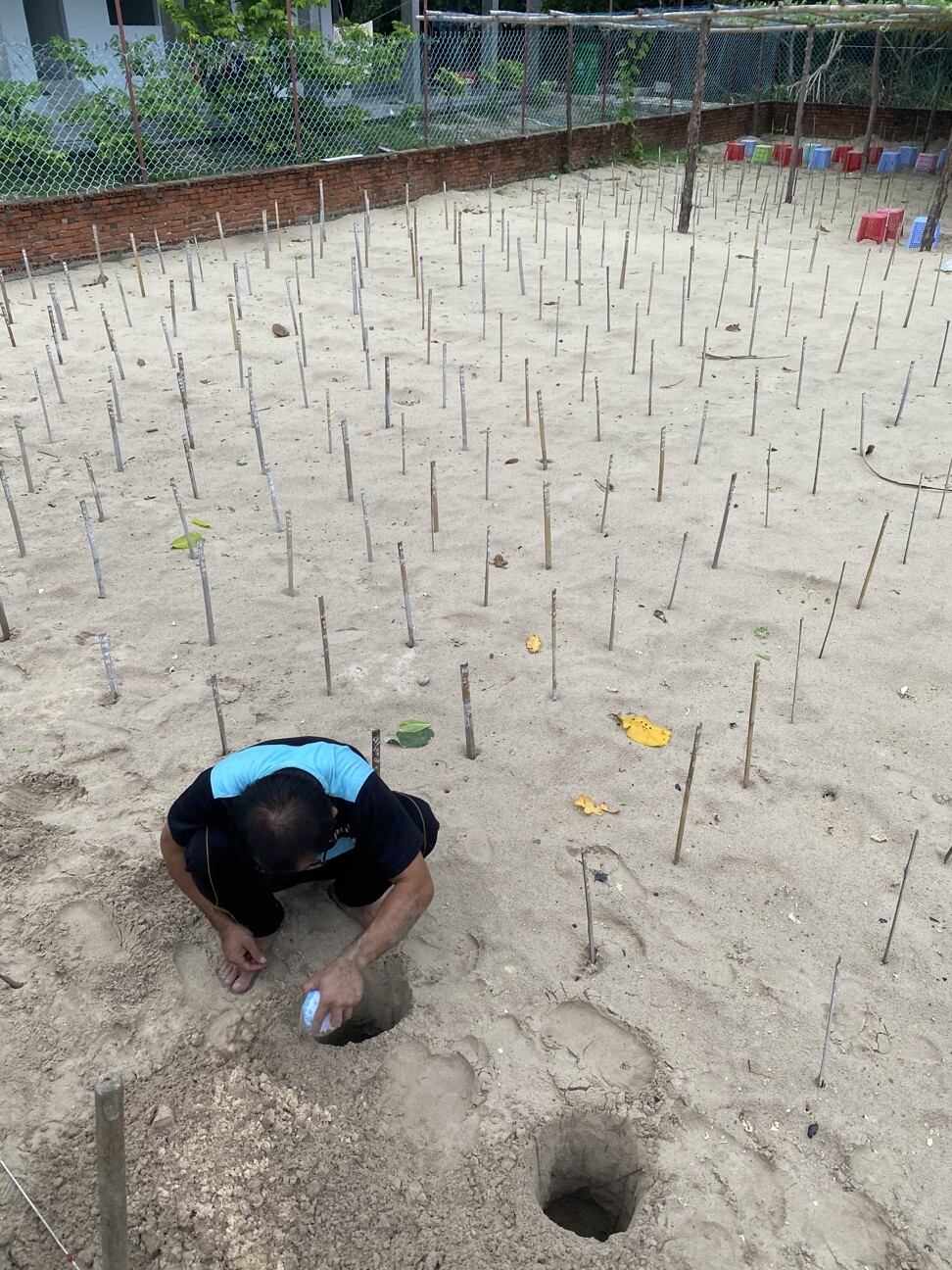 A national park worker prepares a hole for turtle eggs in the incubation ground. Photo: Patrick Scott
Just up steps from the beach, a fenced plot of sand about the size of a volleyball court is dotted with rows of wooden stakes. There a several newly dug holes. Each night and morning, rangers collect freshly laid turtle eggs from the nests the mothers scooped into the beach. The eggs are reburied inside the pen, to protect them during two months of incubation. The plot is nearly full, the latest stake marking: Nest 694, June 27, 92 eggs.
After entering the sea, hatchlings will ride currents and embark on a journey that will, with a great deal of luck, stretch for hundreds or thousands of kilometres, Huong explains, standing before a signboard that charts the life cycle of turtles. After reaching maturity at around the age of 30, the survivors return to feed on seagrass and mate in the coral reefs around the islands.
After a family-style dinner of grilled seafood and a hunt for giant crabs in a forest sparkling with lightning bugs, we gather on the windy overlook, squinting at the gradually emerging turtle.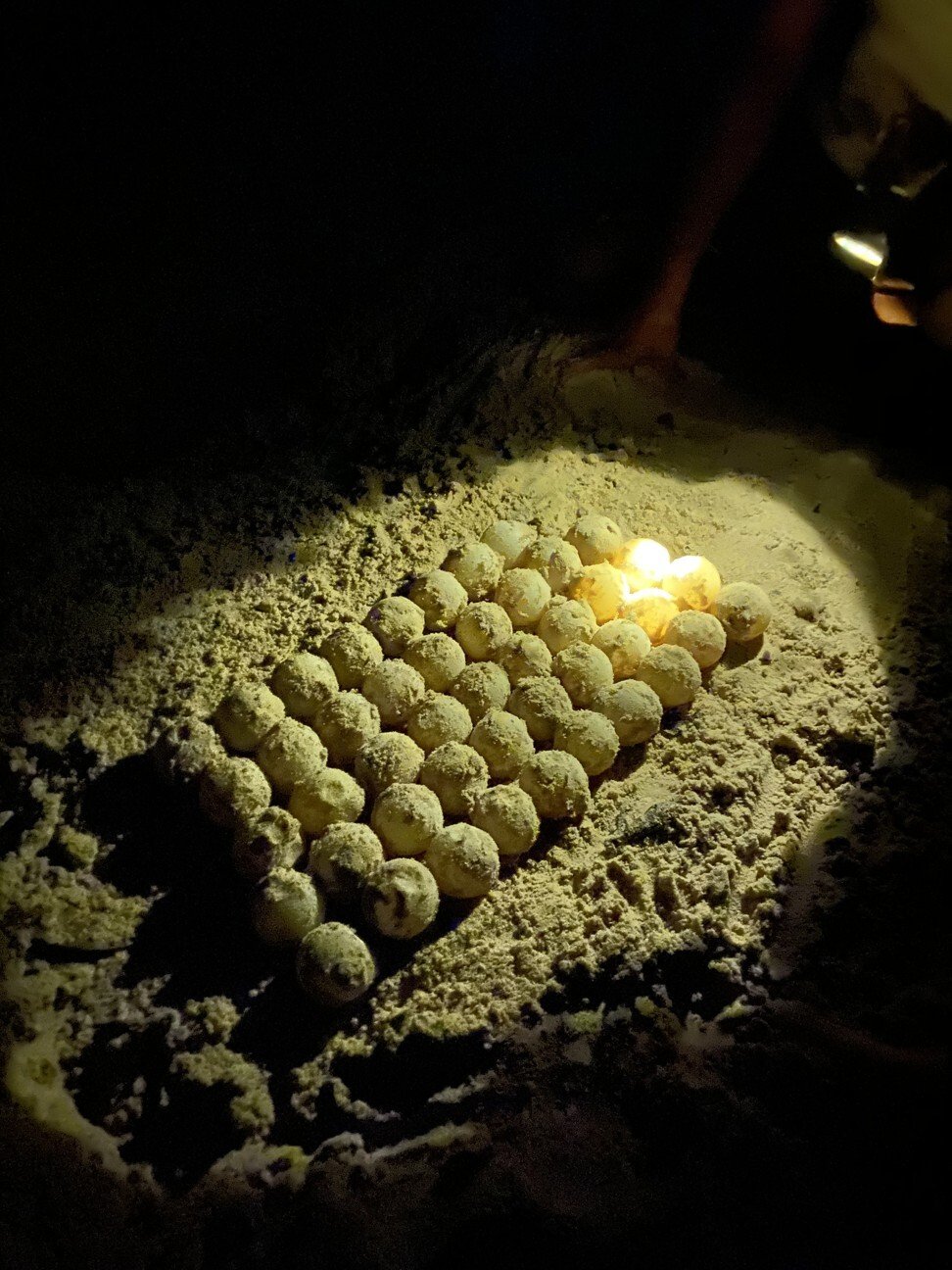 Eggs collected from a green sea turtle nest by a national park ranger. Photo: Patrick Scott
By 9.30pm, we are huddled at the back of a nest under the trees, a green turtle's rear perched over the hole she's dug. A ranger sticks a white light in the sand, to illuminate her tail as she plops out ping-pong-ball sized eggs. With her back flippers, she sculpts sand over the clutch; it's like watching big leather mitts shape clay on a potter's wheel.
The ranger straddles the hole and sifts out the eggs as the mother heaves forward a foot or so, then again and again, proceeding towards the water. She's distressed, and leaves two or three eggs at a time in her wake. The ranger and Huong follow with a yellow light, scooping up the turtle's precious issue. She laid only 54 eggs in the hole and another dozen or so on the way to the water. Huong says that in her nine years of leading tours, she's never seen a turtle react like that.
"I feel guilty, because the turtle was scared and panicking," says tour group member Chiara Gaspari, brushing her teeth later at the ranger station. "She was tripping out because we were there."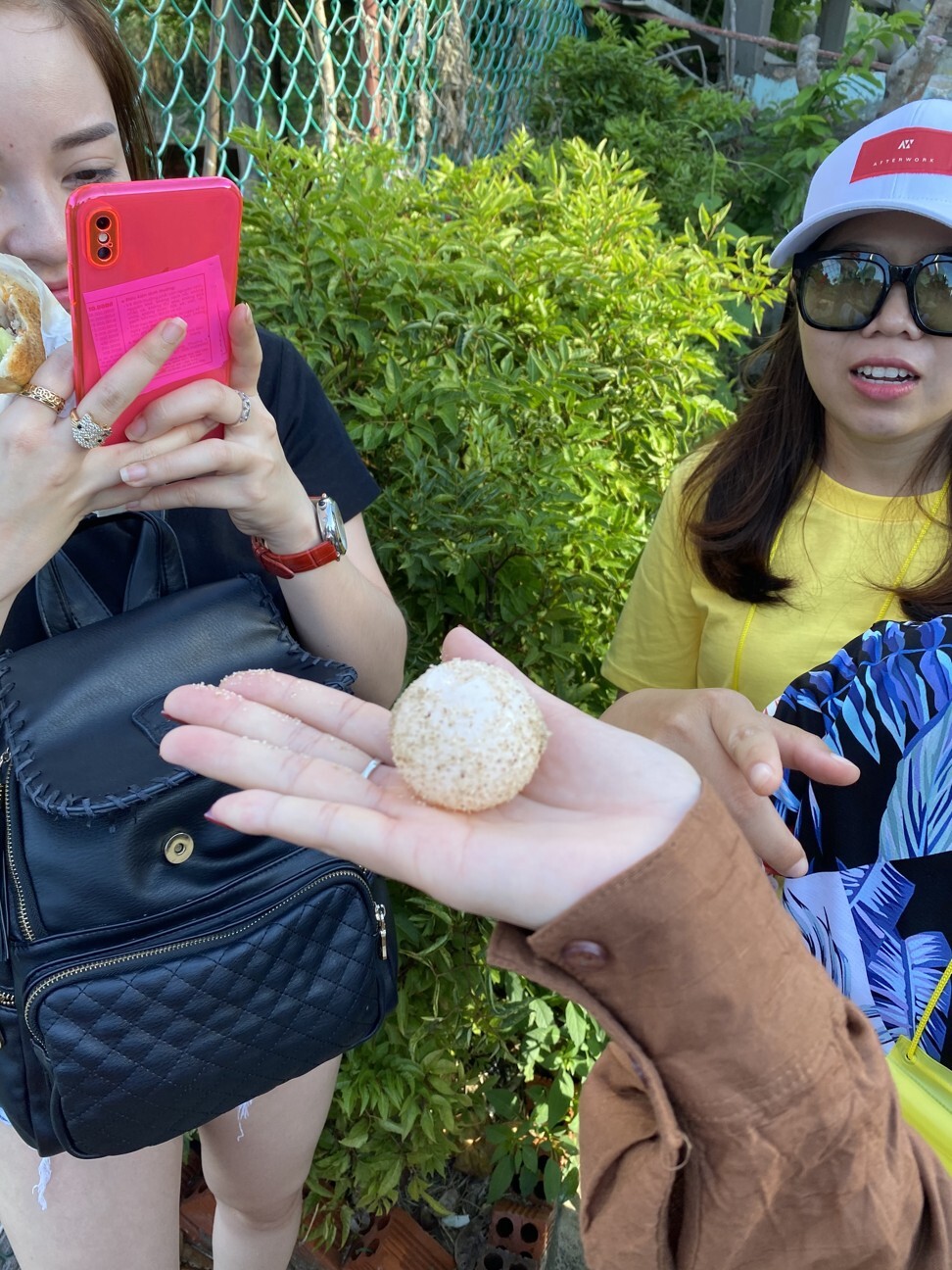 A turtle egg before being buried in the incubation ground. Photo: Patrick Scott
Dozens of marine turtle conservation programmes around the world run nesting and hatching tours, some allowing dozens of people at a time to surround a nesting turtle illuminated by white or red light, says Hamann, the marine turtle expert.
I describe our experience in an email exchange and he notes that sea turtles generally are less easily spooked while nesting. He guesses that the ranger might have "accidentally touched her cloaca or rear flipper as he was collecting eggs – as doing this can lead to the premature departure".
The next morning, an hour after sunrise and in a light rain, rangers carry to the beach from the incubation ground several baskets, each holding a half-dozen tiny turtles that hatched in the previous 24 hours. Daytime releases are not ideal, because the light can disorient hatchlings, but the rangers try to compensate by placing the baskets a couple of metres from the water.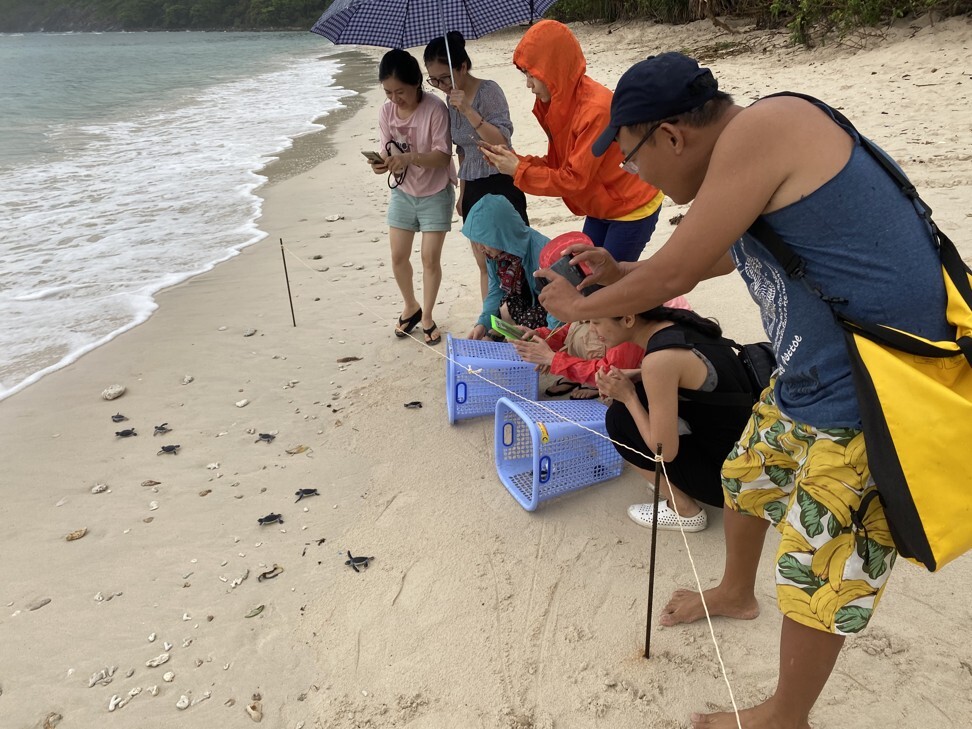 The morning release of turtle hatchlings. Photo: Patrick Scott
Tour companies offer trips out from Con Son to see the releases, typically bringing several dozen tourists to Bay Cahn at around 7am, but before today's visitors arrive, we stand behind roped-off aprons of sand and tip the baskets out. Hatchlings shimmy into the fizzy surf.
Some are flipped and tumbled by the flow and all are helped out to sea by the ebb, their tiny dark heads popping up for air, flippers tilting above the surface like minute orcas playing in an ocean they as yet know nothing of.
Will any return in 30 years or so?