Omar El Galla's quest to accomplish the first known swim of the entire the Gulf of Aqaba along the Sinai.
Story and photos by
Patrick Scott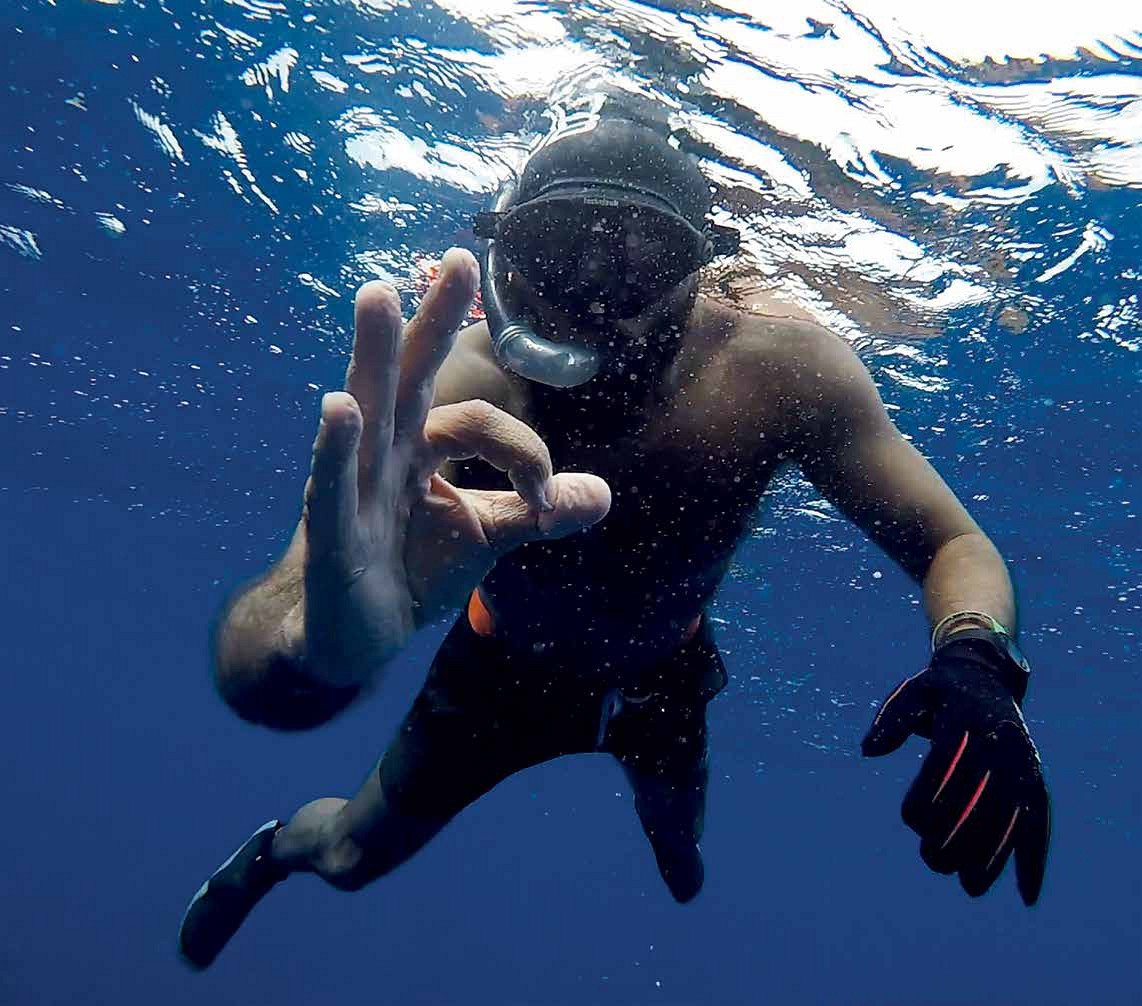 SOUTH SINAI, EGYPT — The policeman in white short-sleeves waved his arms and blew clipped whistle bursts from a dock on the Red Sea, apparently alarmed that two of us were wild swimming outside the roped area of the resort near the tip of Egypt's Sinai peninsula.
About 100 metres on, lifeguards in yellow shirts on another hotel dock at the north end of Sharm el Sheik were just as agitated, bleating away and shouting something in Arabic as we swam past.
A terrorist in 2017 swam onto a Red Sea beach on Egypt's mainland in Hurghada and stabbed several tourists, killing two. So the guardians on the docks had much more reason to be suspicious of us than to be aware of the true purpose of the swim — Omar El Galla's quest to be the first person in memory to swim the Gulf of Aqaba along the Sinai.
ALONG FOR THE ADVENTURE
El Galla was nearing the end of his 220 kilometre, 34-day adventure and I was along for a full day's swim in perfect conditions in mid-November – sunny, air temperature 29 degrees; calm, crystalline waters around 26 degrees. For 12 kilometres, we pulled with the current over an astonishing coral reef and across four large sapphire bays, dodging the occasional boat and ignoring the authorities.
I have swum in oceans and seas around the world – from the cold, murky Atlantic in America, to the super salty Dead Sea in Jordan, to the roiled South China Sea in Vietnam – and I've yet to find saltwater swimming more spectacular than that off the east coast of the Sinai.
THE HUES OF THE SEA VARY FROM COBALT TO TURQUOISE TO AQUAMARINE. THE WAVES NEVER GET TOO BIG
My wife and I lived in Egypt from 2015 to 2017 and often made our way to Dahab, a laid-back and picturesque seaside village about an hour's drive north of the sprawling, walled resorts in Sharm el Sheik. Populated with an interesting mix of Bedouins, Egyptians, Europeans and herds of goats, Dahab is a hub for scuba divers and freedivers who relish its clear, deep, warm water; its abundance of vibrant coral and colourful fish, and its promenade of low-slung restaurants and bars perched on the rocky shore.
Coral reef skirts the entire coast, extending out hundreds of metres in some places. And once you start swimming parallel to shore over the edge of the reef where it slopes in myriad formations to the sandy floor, it's as if you're an aqua mountaineer soaring over endless peaks and ranges, marveling with every breath at the actual granite mountains crowding both sides of the gulf.
The hues of the sea vary from cobalt to turquoise to aquamarine. The waves never get too big. Jellyfish and sharks are scarce. And while it's rare to encounter other swimmers (you're much more likely to glide over scuba divers with their constellations of crystal bubbles or mermaid-like freedivers twirling in the depths) there is plenty of marine life to keep you company. Black, yellow and white striped butterflyfish and bannerfish, as well as little orange fish are constant companions, stingrays and dolphins occasionally make appearances.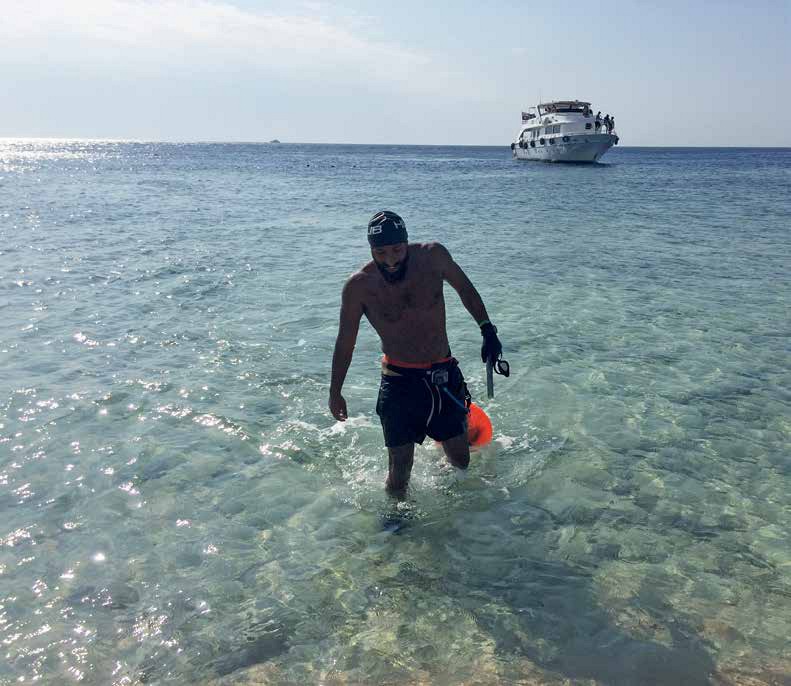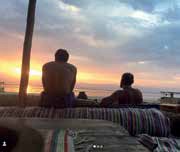 (Photo provided by Omar El Galla)
LIVING THE DREAM
I was back in Dahab to swim before heading into the Sinai mountains for several days trekking in November, when I learned that an Egyptian was swimming down the coast and had been based in Dahab the week before. I got in touch with his helpers to see if I could link up with him. El Galla made a name for himself over the previous year in the small-but-growing circles of adventure and endurance junkies in Egypt. At age 30, living in the congestion of Cairo and constantly connected to his work as a diamond wholesaler, El Galla chucked a life of stress for an epic cycling expedition across Egypt. In late 2018, he rode 6,500 kilometres in 65 days, toting his sleeping bag and gear, sleeping next to mosques and spending about 50 Egyptian pounds, or less than 3 pounds sterling, a day. "I was always dreaming of making money to be able to travel so I thought, you know what, why not just travel in this way," he told me.
He biked along the coasts and through the desert on a path of self discovery, and along the way decided he would test him limits on a run up the Nile. He'd never run more than a 10k, but set off in March from Abu Simbel in southern Egypt to Alexandria on the Mediterranean – 1,500 kilometres in 36 days, running a marathon a day for most of the way – again self supported and rough sleeping. "It wasn't as fun, but it was a nice experience in another way, because of how you pushed yourself mentally and physically," he said.
THE SCENIC SINAI
Halfway through, he set his mind on a monumental swim, at first planning an 850-kilometre route down the mainland coast from Suez to Shalateen. But when he ran into trouble securing permits and a sailboat escort, he opted for the Gulf of Aqaba, figuring the scenic Sinai would be more manageable and enjoyable. He rented an apartment in Dahab and trained in the sea. He was exhausted after an hour or two, but eventually built up to 10km a day and a pace of 2 to 3km an hour. A friend, Nabil Rostom, agreed to be El Galla's ground support and they began Oct. 14 in Taba at the Israeli border.  
El Galla was in the water by 8 or 10 most mornings and typically swam two-hour stints, with Rostom lugging their supplies along the shore. Breaks were in the shallows or on the shore, fueling with mixtures of potatoes, peanut butter, honey, dates, nuts, chick peas and olive oil. He often swam 10km a day. They camped on the beach. Sometimes they were treated to tea and dinner by Bedouins or put up for a few days at beachside eco-lodges like Basata and RockSea Camp.
El Galla wore a wetsuit most of the time and neoprene socks and gloves for getting in and out among the rocks and coral. He clipped to his belt two aluminum containers and a buoy with his phone, power pack and GPS tracker. When they were hosted, they'd hail down a ride from the swim exit, then get a ride back to that spot in the morning and resume. The most incredible section, El Galla said, was south of Dahab in Nabq, where he encountered the largest tropical fish, an astounding variety of coral, caves and stands of mangrove trees. "You feel like you're on an alien planet," he said.
THE FINAL STRETCH
The most difficult part of the swim was the end. When I was trying to join El Galla, he was stranded at a resort in Sharm el Sheik with a water-damaged tracker. He'd been struggling against the current at the Straits of Tiran and spent three hours one morning trying to resume his swim, because the resort where he ended the day before wouldn't let him in without being a guest, he had to take a microbus and walk to a public access. That's why when I took a taxi down from Dahab to meet him, his support person on this stretch, Hesham Al Qersh, and I had to hop in microbus to a construction site at Villa Montazah and wait for El Galla to appear off shore.The tracker was working and we were squinting to locate him on the horizon.
El Galla swam onto the beach around 10 am and we were soon swimming. As we crossed the first blue bay, the motion of the sea felt like a rocking horse. Halfway across, I stopped to take a photo and was startled to see a motorboat swerving 20 meters away. The Egyptians pilot was unsettled, too, telling Omar he could have hit us and was afraid we were drowning. "I think he was really annoyed, not because of us being out there, but because of him not seeing us," Omar said later.
We passed the docks with whistling guards, and stopped at one to wave and rest on the rope and tilt back water and chick peas in olive oil. Soon we were among a school of snorkelers in orange life jackets, and I lost El Galla with his orange float for a while. We were on to another bay wide bay, at least 1km across, the sunlight slanting down and lighting up hundreds of little blue fish spread out like stars below.
We rested on the dock at the Sheraton Sharm Hotel that extended out over the reef, where dozens of Ukrainian tourists floated in the sea. The guard, Mohamed, welcomed us. He said the 300-room hotel was full, reflecting the strong recovery in tourism Egypt has been experiencing the past couple of years.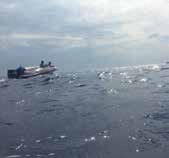 Our final stretch had us swimming over sandy flats with isolated islands of coral. A large gray sting ray with white polka dots flapped in slow motion about 10 metres below. We were emerged around 4 pm and El Galla had four more days to go.
After he finished at the Ras Mohamed marine protectorate at the tip of the Sinai, El Galla's dream was revived of completing the original 850-kilometre swim down the mainland coast from Suez to Shalateen. A potential sponsor with a sailboat materialised and the permits were approved. Now the plan is to start the longest swim ever in Egypt in March. "But honestly if things go south for any reason and I can't be supported by a sailboat," he said, "I'm still dead determined on doing the swim from land."
Patrick Scott is a freelance writer and tourist of the world based in Ho Chi Minh City. Follow him on Instagram @ patrickrobertscott
Follow Omar El Galla on Instagram @omarelgalla